HOBY
Hugh O'Brian Youth Leadership (HOBY)
Each year we send a high school sophomore to the HOBY Leadership training. It usually takes place in June at a college in Eastern Pennsylvania.

HOBY
The format for the leadership training is simple. Bring a select group of high school sophomores with demonstrated leadership abilities together with a group of distinguished leaders in business, education, government, and the professions, and let the two interact. Using a question-and-answer format, the young people selected to attend a HOBY Leadership Seminar held each Spring in their state get a realistic look at what it takes to be a true leader, thus better enabling them "to think for themselves".
HOBY Leadership Seminars believe attendees represent the future leaders of the world—leaders in business, education, government, or any field they choose. By developing effective and compassionate leadership, we hope they will be able to realize their leadership potential and take action in their homes, schools, workplace, communities, and the world.
HOBY's Core Values are volunteerism, integrity, excellence, diversity, and community partnership. HOBY seminars focus on the theme "Empower. Lead. Excel." while encouraging young leaders towards responsible citizenship, including community service and volunteerism.
Each person is inspired and motivated to make a positive difference within our global community by a life of leadership, service, and innovation.

HOBY and Service
One of the most powerful ways to show leadership is through service to others. During the 2018 HOBY Eastern, the students did a service project for Northeast Middle School in Reading. They donated boxes and boxes of books for the library.
They also spent all morning painting the fronts of lockers to make the old school a cheerier place. Our students' creativity and imagination were at their best.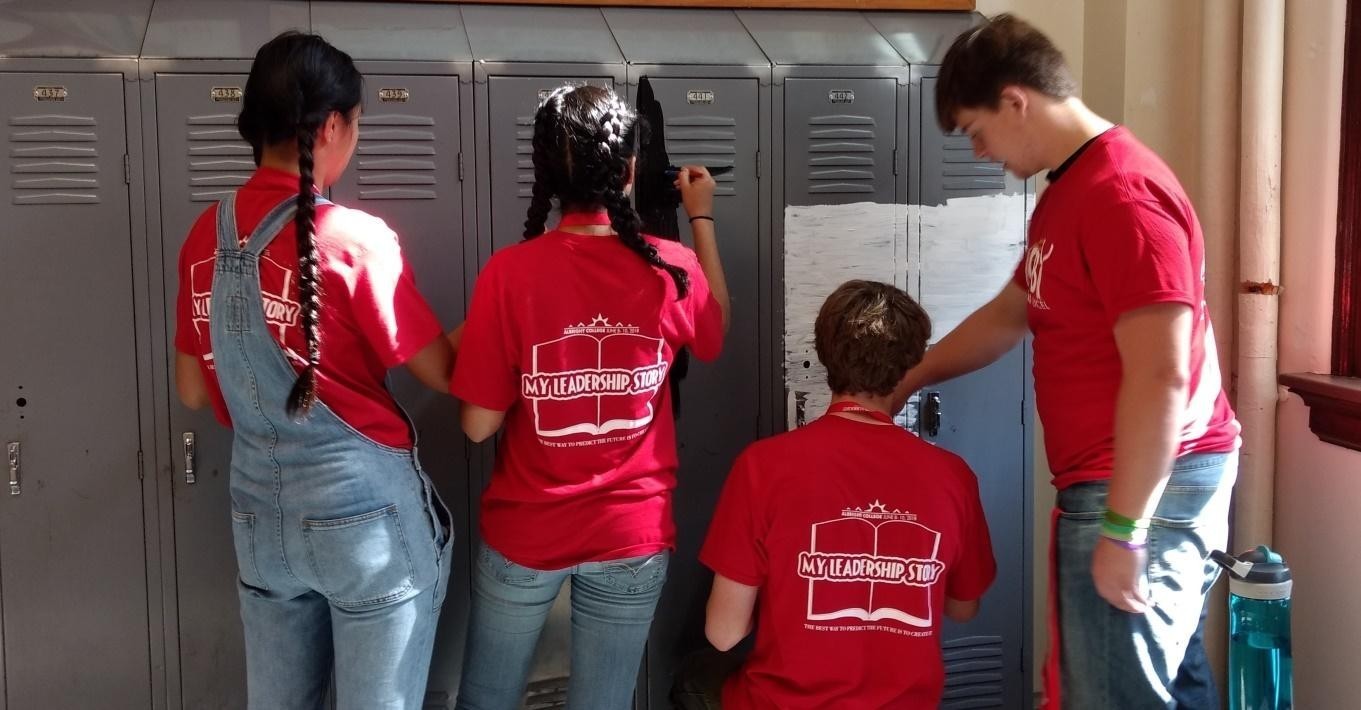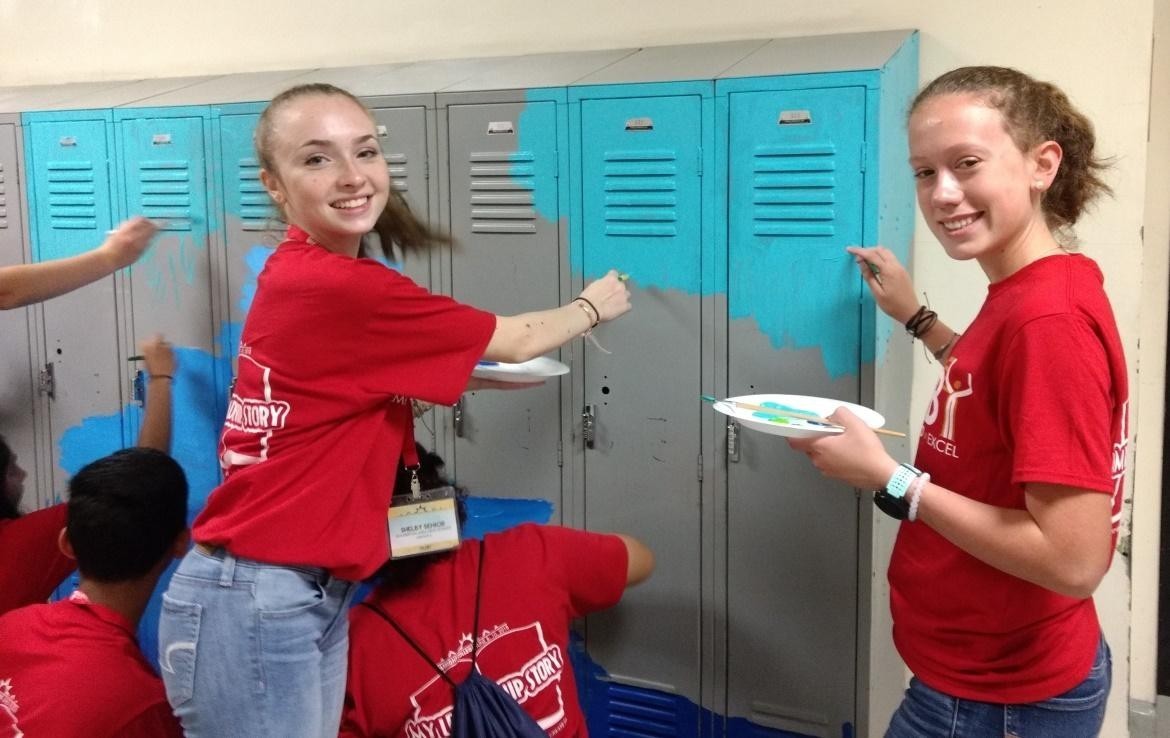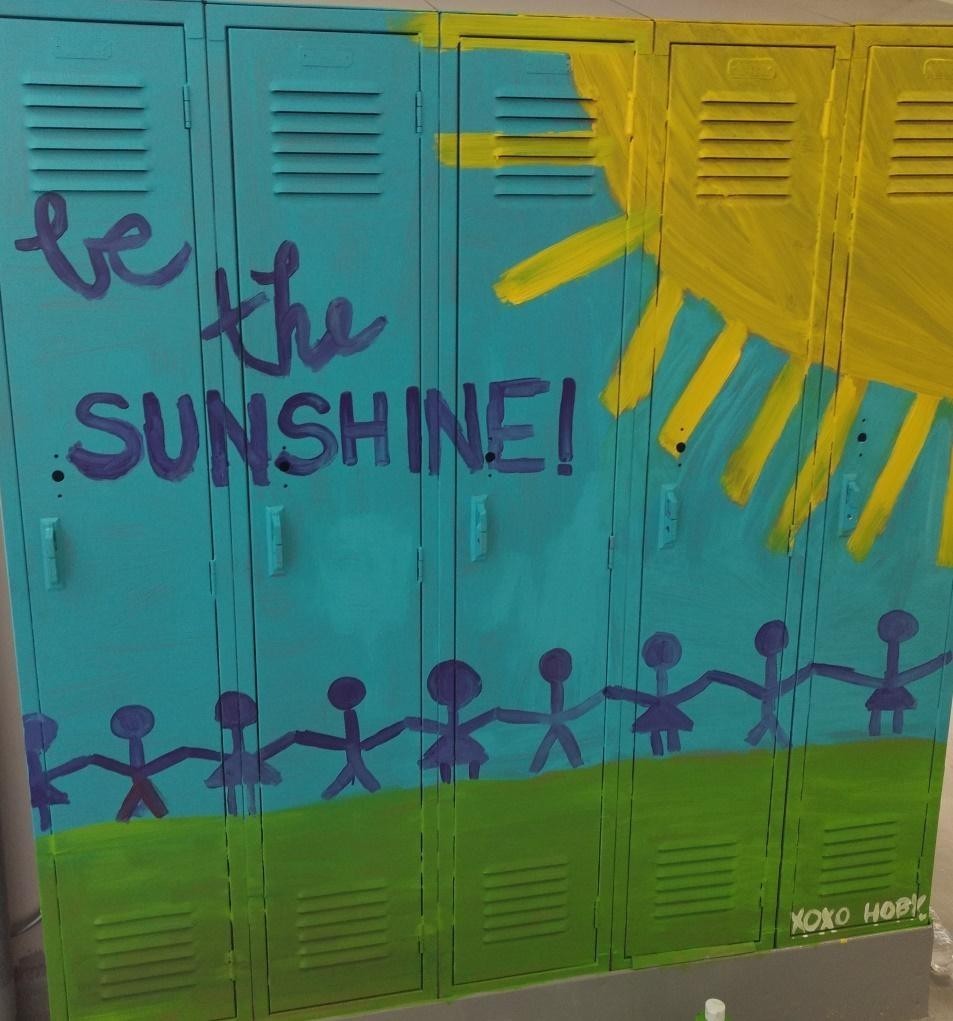 Students are planning the design.
Letting the sunshine in—cheery and happy.
HOBY challenges alumni to return to their community and conduct at least 100 hours of community service in the year following the HOBY Leadership Seminar.
Alumni are asked to make it a year-long commitment to strengthen their communities and to track their success by logging their hours on the HOBY website, www.hoby.org Since the implementation of HOBY's Leadership for Service program in 1998, participants have logged over 3.75 million volunteer service hours!
Leadership
Leadership is explored on three levels Personal, Group, and Society.
Through personal reflection and group processes, each participant explores their strengths and areas to work on. Group leadership is explored to improve knowledge of others so we may learn in diverse settings and reach common goals. Societal leadership empowers ourselves and others to lead positive change in the local and global community.
They also work on developing smart goals and have a "how to" roadmap for planning for success.
Selection Process
HOBY Sophomore Registration Kits are sent to over 22,000 public, private, and charter high schools in the United States. All tenth graders are eligible for selection to attend one of the weekend seminars held in their area each Spring. A sophomore leader is selected by each school and is certified by the principal.
Each year Woman's Club of Indian Valley sends a student to the Pennsylvania East State Leadership Workshop. During the three day workshops, young people think for themselves, try out their leadership skills with a new group, and experience the transition of strangers to buddies and life-long friends.
Alumni of the State Leadership Seminars are eligible to attend other programs at the national and international levels. Besides the United States, these programs are conducted in over 10 countries word wide. HOBY boasts more than 475,000 alumni worldwide.

The HOBY Story
In the summer of 1958, Hugh O'Brian received an invitation that would change his life forever—he received a cable from Dr. Albert Schweitzer welcoming him to French Equitorial Africa (Congo) for a visit. O'Brian had long admired the German doctor-missionary-theologian-musician and did not hesitate to accept. During the day, O'Brian assisted volunteers in the hospital and spent his nights with Dr. Schweitzer discussing global peace and world politics. Dr. Schweitzer told O'Brian that he felt "The most important thing in education is to teach young people to think for themselves" which O'Brian would never forget.
After an inspiring nine days, O'Brian returned to America. While saying goodbye, Dr. Schweitzer took O'Brian's hand and asked, "Hugh, what are you going to do with this?" These words combined with the unforgettable visit, compelled High O'Brian to form Hugh O'Brian Youth Leadership (HOBY). Two weeks after returning from his 1958 visit to Africa, O'Brian put together a prototype seminar for young leaders. **
More than five decades later, HOBY is still inspiring young people all over the world to develop leadership and critical-thinking skills to achieve their highest potential. Currently more than 10,000 tenth graders, representing almost as many high schools nationwide, attend HOBY Leadership Seminars each year. These seminars are run by over 4,000 volunteers in conjunction with community leaders, business executives, educators, and parents.
Each seminar strives to follow the HOBY motto of teaching students, "how to think, not what to think", thus ensuring that Dr. Schweitzer's hope for young people lives on.
**The honors and awards he has received from his work with HOBY are numerous.
• In 1983, the National Society of Fund Raising Executives honored him with their premier award for overall philanthropic excellence as a volunteer, fundraiser, and philanthropist. This is the only time one individual has received the award in all three categories.
• In 1989, he received the 60th Annual American Education Award presented by the American Association of School Administrators. O'Brian joins Norman Rockwell, Lyndon Johnson, Helen Keller, Walt Disney, and Bob Hope as a recipient of this most significant award.